Disrupting industries with enterprise artificial intelligence
Artificial intelligence (AI) is changing everything—fundamentally reconfiguring industries, professions, and lives—and enjoying high-profile success stories with everything from autonomous vehicles to consumer electronics. Increasingly ingrained in the business world, AI represents profound change for enterprises. Early adopters are demonstrating high-impact business outcomes in fraud detection, manufacturing performance optimization, preventative maintenance and recommendation engines.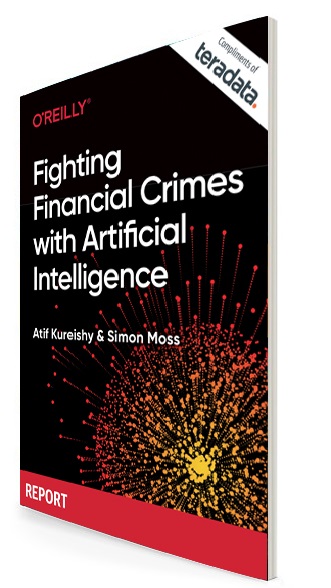 Fighting financial crimes with artificial intelligence
You'll get a practical understanding of the capabilities, as well as limitations of employing AI in the fight against financial crime.
When companies attempt to build their own AI solutions that address their unique opportunities they encounter challenges such as:
Identify practical enterprise applications of AI
Integrating multiple AI open source components and optimizing specialized deep learning hardware
Rethinking process and deploying real-time AI decisioning at scale
Why Teradata
Enterprise AI solutions that focus on unique problems and opportunities
Large enterprises need a partner who has done it before. Teradata has successfully implemented AI across multiple industries, proving the technology as well as producing material business outcomes. Teradata continues to channel IP from successful, field-based AI client engagements into accelerators that lead to faster time to value and reduce the risk of custom initiatives.
How connected artificial intelligence will reshape 21st century businesses
Teradata consulting emerging practices is distinguished by:
UNIQUE APPROACH
Business outcome led, technology enabled
PROVEN SUCCESS
Established record in functional areas of AI and Deep Learning
LEADING TALENT
Recognized thought leaders in AI and Deep Learning
VALIDATED TOOLS
Array of methods, accelerators, and IP to benefit customers
Our approach
Large enterprises need a partner with demonstrated AI success
Teradata brings to life artificial intelligence solutions that drive business outcomes by combining proven world-class deep learning expertise gained with leading clients, unique industry understanding, and proven IP, accelerators, and services.
Teradata works with customers to assist their AI agendas from strategy to results using:
AI STRATEGY SERVICE
Informed recommendations and next steps to derive maximum AI value
AI RAPID ANALYTIC CONSULTING ENGAGEMENT™ (RACE™)
Fast-tracked proof of value demonstration to gain stakeholder buy-in
AI FOUNDATION SERVICE
Open source frameworks to build and deploy a deep learning platform
AI ANALYTICS-AS-A-SERVICE
Design and oversee mechanisms using AI to optimize and improve existing business processes
Danske Bank applied innovative analytic techniques, including artificial intelligence, to better identify fraud while reducing false positives.
Related resources
Learn and do more AI
To take advantage of AI and drive business outcomes, you've got to know how it applies to you and how you can take advantage of it. Teradata knows how to most effectively apply AI to a wide range of enterprise use cases such as fraud reduction, recommendation engines, preventative maintenance and yield optimization.
The AI revolution is here. Let's get started.