Integrated finance analytics for business intelligence.
The chaos of modern finance is exacerbated by multiple data sources, data mart proliferation, and business intelligence anarchy. Integrated finance analytics helps companies maintain a single version of the truth and ends the costly, time-consuming practice of relying on local, siloed data marts.
Hear how WW Grainger uses Teradata profitability analytics to cut through common CFO challenges.
Through the power of integrated finance analytics, the CFO and finance department can fully embrace their roles in evaluating and improving enterprise performance with:
PREDICTIVE ANALYTICS
Improve performance organization-wide
ENTERPRISE-WIDE VISIBILITY
Automated, integrated view from aggregated P&L to customer/product P&L
DATA CONSOLIDATION
Eliminate silo-induced blind spots
AUTOMATED REPORTING
Save staff hours with consolidation, centralization, and automation
MERGERS AND ACQUISITIONS
Unveil new business value and strategic opportunities in M&A activity
HR ANALYTICS
Reduce churn, drive hiring best practices, and maximize ROI
Talent + Tools + Technology
Teradata has everything your finance department needs to transform the inherent complexity of large-scale business operations into a profitability solution with actionable insights. Our primary goal is building a data and analytics solution for specific business needs using rapid data integration—both financial and non-financial—to improve efficiencies and reduce time-to-insights.
Teradata for finance builds a profitability solution for your specific needs using:
FINANCE VETERANS
Experienced accounting practitioners
TOOLS AND IP
Profitability solution built on proven data and analytics tools
SCALABILITY AND AGILITY
Bring structure to large-scale business operations
Rapidly integrate all data for faster insights and efficiency
Teradata connects enterprise-wide data, analytics, and rules so CFOs have holistic visibility and actionable insights to drive business strategy, business outcomes, and reliable, hassle-free execution of reporting and compliance activities. The first, most important step we take is data consolidation across your entire organization. Consolidated data, combined with both profitability and spend analytics, improves visibility and generates faster, deeper insights. Breaking down data silos also streamlines compliance and reporting by enabling accurate, automated capabilities that replace manual, Excel-driven data gathering, and help you shape recruiting and retention policies.
Powering the CFO office superior analytics
Teradata finance analytic solutions streamline core accounting and reporting processes and free finance leaders to focus on advanced analytical capabilities that uncover opportunities for major cost savings and revenue gains.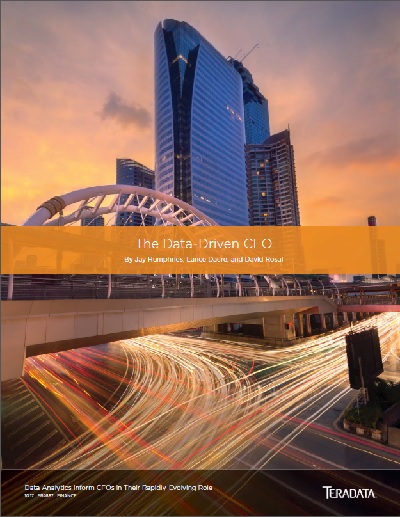 The data driven CFO
MORE ON FINANCE TRANSFORMATION
Learn more about our other business outcomes
Stop the chaos. We'll show you how.