Make a Data-Driven Decision for your Data Warehouse: GigaOm Radar Report
See why Teradata is named a leader for data warehouses, and get expert insights in one fully-loaded report.
The latest GigaOm Radar Report for Data Warehouses is out! Equip yourself with a 360° evaluation of 12 major data warehouse vendors across a range of feature categories – including an in-depth analysis of Teradata's newest cloud-based offerings.
The report equips IT decision-makers with the information needed to select the best fit for their business and use case requirements.
Learn the value and future progression of data warehouse vendors across multiple axes, and why GigaOm has given Teradata Exceptional marks for essential functionality like scalability, elasticity, deployment flexibility, and more.
Read the report to make the best possible decision about the vendor for your data warehouse, and discover:
Each vendor's approach, capabilities, and ongoing development
How vendors are modernizing their platforms for the cloud
How vendors are integrating data science, ML, and AI capabilities
How Teradata's solution provides strong in-database analytics functionality through ClearScape Analytics™ and flexible support for multiple deployment scenarios and workloads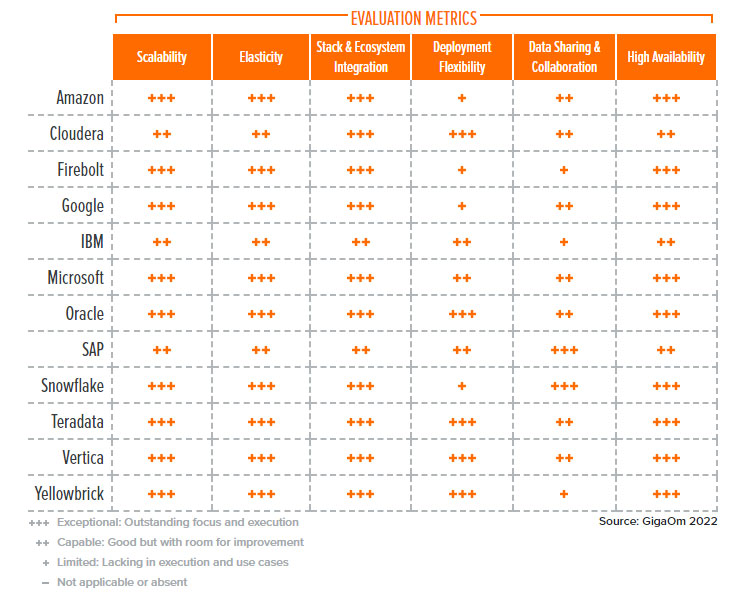 "With these updates, Teradata increases the comprehensiveness of its offering and diversifies the options it provides for customers to choose from for their different workloads." — GigaOm Radar
Teradata Vantage is the connected multi-cloud analytics and data platform that makes all your data easier to access and use, no matter where it comes from. We empower organizations to unlock data, activate analytics, and accelerate value with our fast, flexible deployments – including multi-cloud and cloud-native options – and ClearScape Analytics: the most powerful, open, and connected AI/ML capabilities on the market.