New Strategies Needed to Manage Acute Part Shortages
Faced with persistent supply chain disruption automotive companies need a new approach to planning. Find out more.
Faced with persistent supply chain disruption automotive companies need new approach to planning
In recent years the fragility of ultra-lean Just in Time (JIT) and Just in Sequence (JIS) supply chains has been exposed by a period of major disruptions. From earthquakes and tsunamis to maritime accidents and from global pandemics to wars supply-chain disruption is now an increasingly regular occurrence. Automotive companies have been forced to move from occasionally adapting schedules at a factory level to daily management of an acute shortage of parts. The default response of shutting entire factories to wait for parts cannot be a long-term solution. The visibility of data at a granular level is crucial to building a resilient supply chain. It also allows companies to apply the right analytical tools to answer the critical question; "What is the best action to take now to minimise overall impact of acute scarcity of parts." The business case for investment is clear.
EXCEPTIONS ARE BECOMING THE RULE
Standard 'top-down' planning tools assume unconstrained supply. Based on supply-chain averages and aggregated information, algorithms are created in the belief that it is just a matter of placing orders with sufficient lead time. Exceptions are expected to be rare and localised, meaning manual, spreadsheet-based exception management is sufficient. But, in the current climate of global supply chain disruption, acute parts shortages become the rule rather than the exception and these tools, and the manual interventions they require, are no longer fit for purpose.
Whilst improved supply chain visibility based on granular data cannot magically produce parts, it can provide better information for fast decision making. Moreover, when supply is constrained, it can make more sense to use actual part availability to drive bottom-up 'capacity to build' algorithms. With expanded, integrated data sets, companies can not only keep production lines running, but optimise feasible production schedules to suit different goals: maximising profitability, number of units delivered or preferential support for key markets.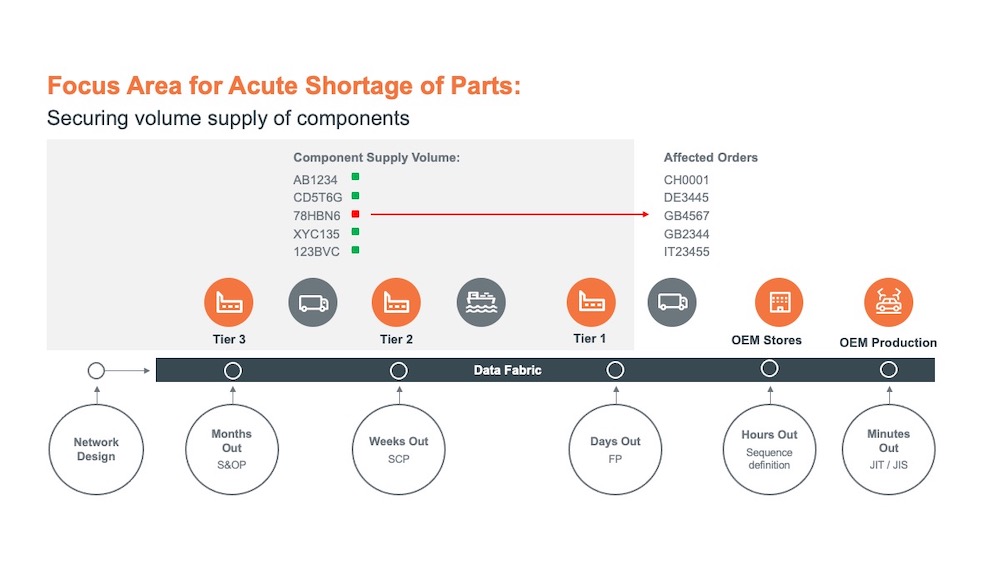 Decision support based on granular data goes beyond production optimisation. The semiconductor shortage has taught us that active selection of which parts to continue to receive, and which to cancel or delay, is crucial. The risk of tying up working capital must be balanced against ensuring continuity of future supply.
Making these decisions confidently demands integrated granular data from across the business. But current planning solutions typically act independently of each other and use different data sources. This is inefficient at best and prevents the type of analysis needed to manage acute shortages in one area without disruption others. Teradata's multi-dimensional scalability and integrated data enables knitting together parts of the digital thread to create a detailed planning data foundation. This foundation can serve both as a source for established planning systems, and to run multi-dimensional supply chain optimisations which are not covered by traditional algorithms. It is equally relevant for mitigating medium to long-term shortages and for short and immediate timeframes even at individual production line level.
The key differences between the short and long-term optimisations are around time sensitivity and scope of data to include. Short term optimisation requires results expected in minutes but based a narrow data scope – how best to mitigate a delay to one delivery in the next 30 minutes. The range of mitigation actions is limited due to the immediacy of the need. Long term planning can afford longer running algorithms, and should include more factors such as detailed costing, environmental impact, geopolitical concerns and previous supplier performance. The range of actions available during a long-term planning cycle are also broader. Certainly, during strategic planning, a wide variety of options should be considered including shortening supply lines, add inventory buffers or considering dual sourcing to minimise supply risk. Our next blog will look specifically at the need for this dynamic optimisation using an integrated data analytic platform to manage the timeless problem of a JIT/JIS supply chain: last minute shortage of critical parts.
The cost, both financial and in terms of impaired customer service levels, of production line closures resulting from parts shortages makes the case for investment in the data platforms that can minimise these events. However, in times of economic downturn and uncertainty, companies may be tempted to cut IT projects as a cost savings measure. But studies underline that investing in digital transformation projects – especially those that deliver decision support and agility – during economic downturns is prudent. As Walter Frick wrote in Harvard Business Review:
"Recessions can create wide and long-standing performance gaps between companies. Research has found that digital technology can do the same. Companies that have neglected digital transformation may find that the next recession makes those gaps insurmountable."
In the same article he adds: "IT investments make companies more agile and therefore better able to handle the uncertainty and rapid change that come with a recession."
As global financial growth enters a new era of uncertainly, and as supply-chain disruptions look more likely to multiple than to recede, investments that deliver enhanced performance and agility to respond to emerging threats, must surely make sense. Building a foundation of multi-purpose granular data is crucial to providing the agility to run a flexible, resilient, efficient and environmentally friendly supply chain in the unknown future.
To find out more please get in touch.
알고 있어
테라데이트의 블로그를 구독하여 주간 통찰력을 얻을 수 있습니다