EMA Report: Navigating the Complexity of Hybrid Data Ecosystems
A Look at How to Modernize with Connected, Real-Time Intelligence.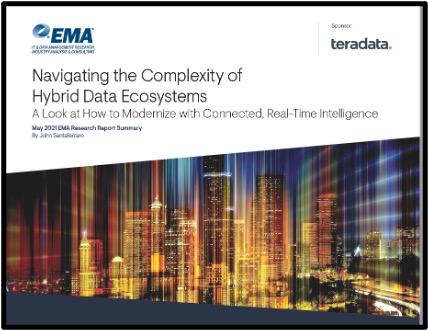 Data analytics environments are complex. More than 47% of organizations operate more than five data platforms.

EMA Research found that large organizations can have as many as 700 instances of their analytical databases or data lake platforms. And every one of these instances costs money and adds to the complexity. The research also revealed:
53% of organizations are either expanding or consolidating their number of platforms in the next year

35% plan to add a data lake platform in the next year

The top two platforms in hybrid data ecosystems are analytics platforms and data warehouse platforms
Proven expansion and consolidation strategies are critical to the success of every analytics program, and 2020 created even more urgency for efficient hybrid data ecosystem management.

Teradata Vantage™ simplifies the complexity of data analytics ecosystems. Download the EMA research and contact Teradata to understand how Vantage can streamline your environment.
EMA: "Navigating the Complexity of Hybrid Data Ecosystems" by John Santaferraro, May 2021.

EMA is a registered trademark and service mark of Enterprise Management Associates and is used herein with permission. All rights reserved.